Alignum operates the most modern Coralli pallet manufacturing line for the production of wood paper-, chemical- und one-way-pallets in all sizes from 500×500 mm to 1500×1500 mm.
The computer regulated operation guarantees the highest levels of accuracy for the production of wood pallets.
Well trained and highly motivated personnel as much as the highly flexible production line enables us to take orders also for short delivery times.
Individual wishes – also special designs according to your drawings – will be gladly accommodated.
The fixing of plastic or carton board covers on the top boards, as frequently demanded by the paper industry, is possible.
Spiral rolled nails are placed exactly to the wishes of our customers, they are countersunk between 2 and 4 mm below the surface of the board and are bent back.
Corners can be cut.
6 different burned in marks are available and can be placed according to wishes.
Stacks can be put together automatically up to a height of 3 m.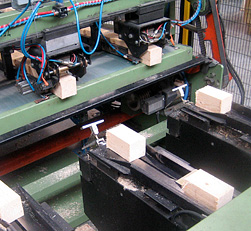 The raw material for the production of pallets originates from renown large saw mills. As a consequence of our location within the wood cluster Paskov (CZ), we have established a very close collaboration with the Mayr-Melnhof saw mill Paskov, one of the most modern large scale saw mills in Europe.
Alignum uses predominantly spruce, however on customer demand we can also process hardwood, pine or composite blocks. The timber originates from suatainably managed forrests (PEFC certified) and is converted by our skilled worforce to the wished high quality pallets.
 We use nails and not staples for Alignum-Pallets.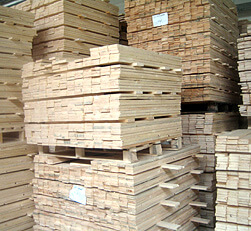 The production of our pallets is controlled trhough the entire production process from the raw material to the production itself and the delivery to our customers, and checked regarding the adherence to customer demand and alignum's quality system.
Alignum checks:
Raw material: Bark, knots, rot, colour, thickness, moisture content 
Manufacturing: Placement of nails, measures, visual appearance, strength
Delivery: Quantity, stacking, visual appearance, cleanlyness
Alignum GmbH and Alignum CZ s.r.o. are quality and environmental management system certified according to ISO 9001 & ISO 14001.